Kasem Bible
Kasem Bible translation
Meet the team
Here is the team that did a lot of the work on the Old Testament translation.
From left to right:
Philip (now based in the UK)
Rev. Abraham Ayiakwo
Rev. James Wεchu
Rev. Jonah Kwotua
and sitting on the left is Jonah's youngest, Ernestina
Jonah is Pastor of the Liberty Worship Centre in Paga.
Abraham is Pastor of a church in Pungu, near Navrongo.
James is Pastor of a church in Kajelo.
Robert Wepia (below, second from left) also joined the team for final revision and checking. Robert comes from Kajelo and was a key person in translation of the New Testament.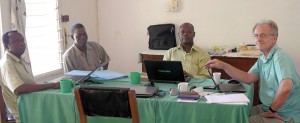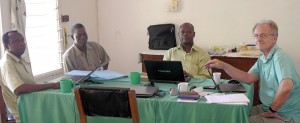 Kasem Bible launched!
The translation goes through several stages and we often reviewed previous drafts in the light of later experience. Through 2013 the final checking was completed on the Old Testament translation and the New Testament was revised in the light of feedback received and also to bring it into line with the Old Testament. The spelling of Kasem had been modified since the New Testament was first published, so that needed work to make sure words were spelled correctly. Some of this could be done using computer software to make consistent changes, but some could only be checked by reading through word-by-word. For example: When de means "we" it needed to be changed to dé (high tone), but other occurrences of de, meaning "with" or "and", had to be left unchanged as de (mid tone).
Progress updated March 2015.
When the work outlined above was completed the typesetting process was started in November 2013 with John Sidsaya in Tamale. Through 2014 John sent page proofs to us in the UK and we checked the layout and picked up on mistakes that had still managed to slip through. Finally, after a lot of painstaking work, the Bible was sent off to the printers in South Korea in December 2014.
Printing was completed in March 2015 and we were overjoyed to receive two copies by Airmail on 24th March. Now the full production of 8,000 copies has been unloaded in Navrongo in Kasena-land and the official launch and thanksgiving for the Kasem Bible was held later in the year: 8th November in Kumasi (a major southern city where there are several Kasena churches); 13th November in Chiana (the western side of Kasena-land); 14th November in Navrongo (the central town).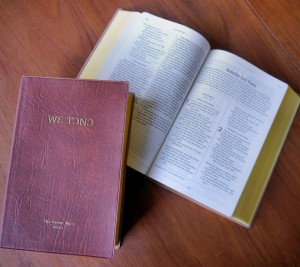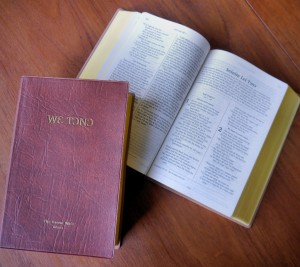 Kasem Old Testament books available to buy:
The Kasem Bible
Genesis & Exodus (1–20)
The Book of Ruth
The Book of Jonah
The Kasem Bible is also available as an Android App